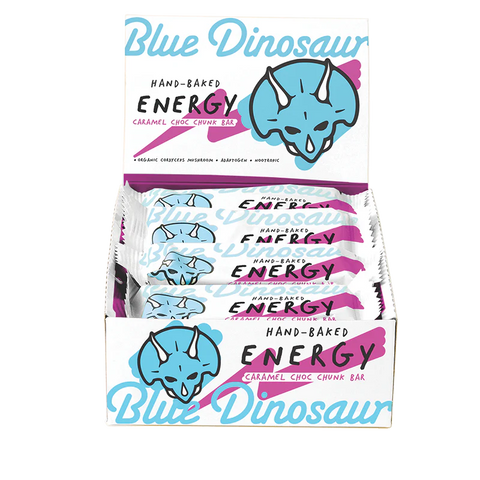 Blue Dinosaur
Blue Dinosaur - Mylk Caramel Choc Chunk Energy Bar 45g x 12
The cakey base of their energy bars is a blend of roast almond butter, dates, Himalayan rock salt, organic cordyceps mushroom powder, and organic coconut to create a moreish, umami-like middle ground between savoury and sweet.
The super sweetness of caramel chocolate chunks is offset against the Himalayan crystal salt. There's a reason salted caramel took over the world and this bar is that reason personified.
Ingredients: Dates, Almond Butter (from 100% Almonds), Organic Coconut, Organic Caramel Chocolate (Virgin Cacao Butter, Evaporated Coconut Nectar, Raw Cashew Nuts, Coconut, Hazelnuts, Almonds) (9.5%), Organic Cacao Butter (9.5%), Organic Cordyceps Militaris Mushroom Powder (4.5%), Pink Himalayan Rock Salt.
CONTAINS TREE NUTS (ALMONDS, CASHEW NUTS AND HAZELNUTS). MAY BE PRESENT: EGG, OTHER TREE NUTS, PEANUTS, AND SESAME.
CHEW WITH CARE. WHILST ALL CARE HAS BEEN TAKEN SOME DATE PITS, DATE PIT FRAGMENTS, OR NUTSHELL MAY REMAIN.
Bars contain chunks of vegan chocolate. Store in a cool, dry place, out of direct sunlight. In warmer climates refrigerate bars.
Made in Australia from 19% Australian ingredients including Australian almond butter.